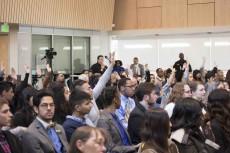 TCC students from all campuses stand and ask questions for each of three visiting U.S. representatives about a range of national topics Feb. 5.
Photos by Karen Rios/The Collegian
"There's about $1.3 trillion of debt that is spread across the 40 million young people, and a million of which served in armed forces just last year," Swalwell said. "And talking to you all today — as America's future — our job as representatives is to get the information from today and bring it back with us to D.C."
U.S. Reps. Marc Veasey of Texas, Eric Swalwell of California and Ruben Gallego of Arizona talk with TCC students on South, speaking about debt and financial loans.
Responding to the repeated rise of tuition rates, Veasey stressed the value of higher education and the financial support for upcoming generations. Forwarding programs like the Fast Track to College Act, Upward Bound fund and Stepping up to STEM Education Act give students access to more resources in their district, he said.
"Fields such as science, technology, engineering and mathematics are becoming the foundation of future employment," Veasey said. "These educational opportunities provide the life skills necessary for our thriving global job market."
Collectively, the representatives shared their belief in providing career options to students without the post-graduation anxiety of paying back loans.
"Too many young people are held back by their student debt and end up deciding a career based on their financial loan status," Swalwell said.
Gallego spoke in part to his legislation aimed at assisting veterans with scholarship services and helping those who have served transition to the workplace. A move
An audience member speaks to U.S. Reps. Marc Veasey of Texas, Eric Swalwell of California and Ruben Gallego of Arizona, who came to South Campus to talk with students about higher education and other concerns.
toward privatizing the VA leads to shortcomings, Gallego said.
"With privatization, you run into the problem of healthier beings picked over others," he said. "And so, you will have some [veterans] that will shop around for a bit and then finally settle for a subpar medical facility."
The students shifted their comments toward immigration reform. The congressmen agreed that improving the immigration situation has been gradual and the development of a modern reform is a step-by-step process.
"Focusing on our immigration system, the question becomes can we get it to the floor?" Gallego said. "There are enough Republicans to get it there and passed, at least on from the House."
TR and NW student Kay Carroll speaks her mind during the Feb. 5 student town hall meeting on South Campus.
Delia Morales was among the South students who attended the event.
"Students seemed engaged in the topics the congressmen talked about," she said. "You could tell there wasn't enough time to get all the questions. They even went over by 15 minutes."
South president Peter Jordan, whose campus hosted the event, was pleased with the outcome.
"I'm glad to see students participating in their local government," he said. "Some aren't too sure what to say sometimes, but they asked their questions, and it was a fair representation of TCC's population."